Published: July 28th, 2020

Author: Marie Elena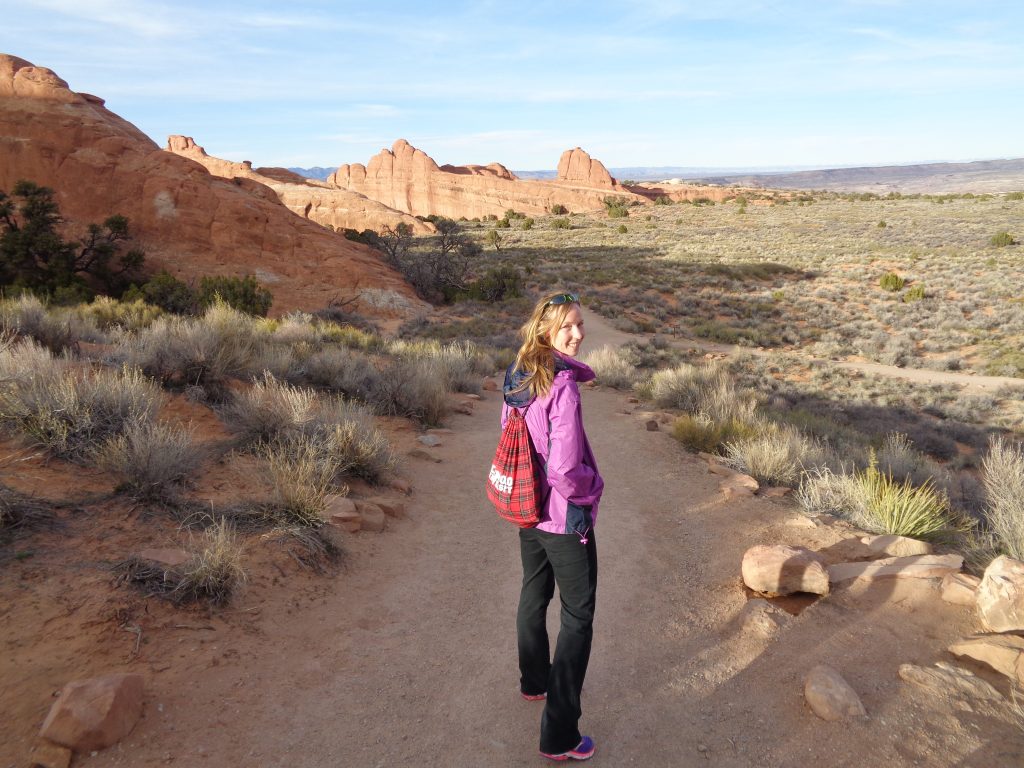 I get it. Most people have come to the general consensus that 2020 has not been a great year for mankind.
Worldwide pandemic.
Political and social controversies.
Job losses and economic destruction.
Cancelled vacations, concerts, events, holidays and physical menus at restaurants (Am I the only person who can never make that stupid camera scanner work??).
Social media platforms you've had to leave to keep your "wanted for murder" record clean….
Did you want me to go on? I'll spare you since you've likely already watched the news one too many times this year (AKA more than once since March).
I've already talked about how to turn this terrible, horrible, no good, very bad year into something that changes your own personal life for the better. But you're still missing travel. BIG time. I'm right there with you.
That's why I wrote a post about real ways to BRING travel into your home (without just pretending) while being trapped in your house. But still…nothing will REALLY replace physical travel. Sorry, it just won't.
Heck, even that delayed "insert budget airline name here" flight and subsequent lost bag (again) sounds pretty darn good right about now, right?!
OK, maybe I got a little overzealous on that last one.
Needless to say, along with your daily compulsive temperature check results, your mental state may also not be doing too hot right now.
While international travel may be hanging out in the dark corner of "way off in the future" for a little while, domestic travel is very much in the "here and now" spotlight.

And what better way to travel domestically than to visit those US national parks you've been vowing to visit for years (you know, the ones you've been putting off in pursuit of something with a little longer plane ride)?!
But why national parks?
Well, think about it! Not only is domestic travel feasible, for the most part, so we wanderlusters get to keep your marbles for yet another year but if you're actually looking for a way to get outside and stay physically active and healthy all while having the option to physically distance yourself from others in a location OTHER your home, don't parks sort of check all of those boxes?
If you're still worried about physical distance when visiting these national parks, bear in mind that just about any narrow trail or even small footway along with all indoor spaces deemed by authorities to be "too risky for potential congestion of visitors (and then presumably your nose thereafter)" are joining the cool kid trend this year of closing to the public.
Like everything else, the administration of these places have already thought to "keep you safe from yourself" even before you visit! Imagine that.
No "Rona" for you!
As much as I love international travel, I also LOVE domestic travel and I visit at least a couple of US national parks every year. I truly consider myself an expert on them, so what better time to share my experiences and recommendations in a time everyone is so desperate to get out?!
Safely, of course, right?!
There is SO much to see and explore here in our own backyards, especially with our country being so vast. You can pretty much have your pick of preferred climate and terrain and then go without even having to cross any borders or necessarily get on any planes if you don't want (Rona loves to fly…didn't you hear?)!
Some of the best trips I've ever taken have been road trips around the country to go on a national park binge and to this day, out of all of the countries I've been to, US national parks are still some of my top picks for travel destinations overall!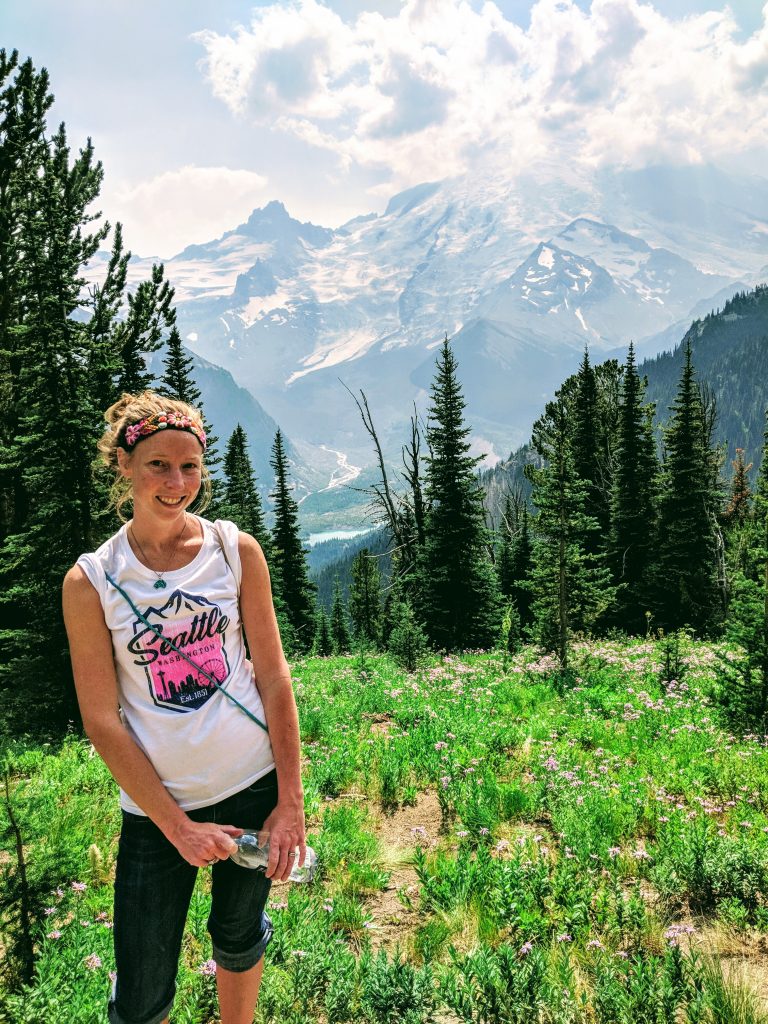 Today I'm here to talk about some of my absolute favorite parks in the country.
And no worries on doing the research to find out if they're open. I've already done this for you and I will spell out exactly what's up with each of them in their reopening processes. Here, I've included a list of my top favorite parks, best times to go, highlights and history of each and most importantly…what's ACTUALLY open since the pandemic insanity hit.
All you have to do is plan your trip (or let us help you if you aren't up for a single more stressor this year)!
2020 Doesn't HAVE to be the "worst year ever" like everyone says. Anything and everything is what you make of it. You may not be able to change what is happening outside of yourself, but you can absolutely control your own life, thoughts, actions and yes…even your own adventures!
YOU? In control? What a new concept, right?!
From struggle comes relief.
From problems come solutions.
From forced isolation comes new ideas.
And from almost losing your sh*?%t during the quarantine comes finding yourself in a new state of mind, leaving your home state behind and entering a new state well-timed!
I know. I totally missed my calling as a poet.
So let's hit the road!
#1: Zion National Park and #1.5: Bryce Canyon (Southwest Utah)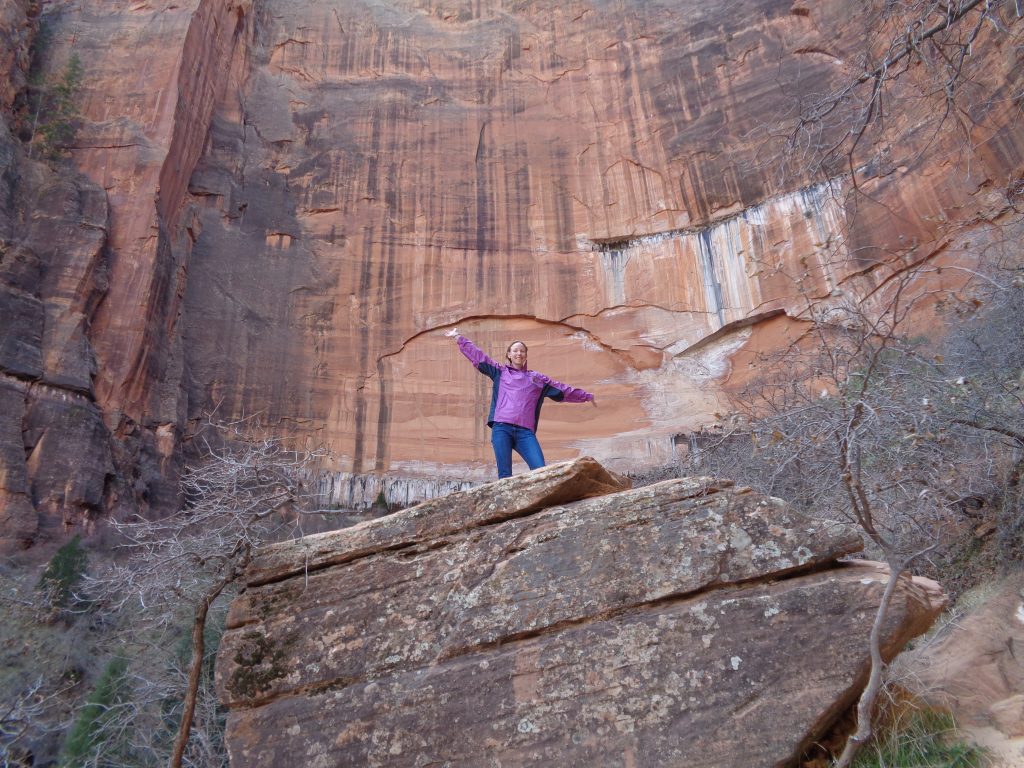 Because it's me, I've sneakily included two destinations in one number (Did I mention I love US national parks?)! I grouped these two together because usually they're visited in the same trip even though they are technically two different parks about 1 hour and 20 minutes drive time apart.
1. Zion National Park
Let's start with my absolute favorite national park in the entire country! After all, THE original purple windbreaker that defines the entire premise of my business name was purchased here!  So if you do go here, you should definitely buy a windbreaker and take it on all future travel endeavors around the world. Just a little personal suggestion!

Fun Facts and Things to do in Zion: Zion National Park is Utah's first national park and the word "Zion" means "refuge" in Hebrew. The park has been known to be walked by ancient people since as early as 6,000BC. Today, you can follow routes of some of the first pioneers and natives. The entire park is filled with archaeological sights and artifacts.
Zion's landscape is also like no other. Between its deep canyons, emerald pools, waterfalls, forests, rivers and red cliffs, the park is perfect for hiking, swimming, canyoning, rock climbing and rappelling.
There's even a natural "underground subway" area to explore!
TOP SIGHTS: Angels Landing (the well-known difficult trail that involves a great deal of switchbacks, chains and cliffs to cross), The Narrows, Kolob Arch (one of the largest freestanding arches in the world), Zion Canyon Scenic Drive, Canyon Overlook Trail, Observation Point, Watchman Trail, Pa'rus Trail ( if you're looking for an easier hike), Weeping Rock, Lower Emerald Pools
Best Time to go: I'd definitely recommend going to Zion between April-May and September-October when temperatures range from around 60-90 degrees unless your agenda is to freeze or bake the virus away!
Is it Open?! YES! Every park on this list is open! Shuttle service IS running (which began on July 1st), so all you have to do is park your car for the day and have full transportation to all of the trails! Like mostly everything nowadays, tickets must be purchased online in advance. You can do that here.
Closings: Kolob Canyons Area and Scenic Drive as well as the Visitor Center are temporarily closed due to…well…I'll let you guess.
1.5. Bryce Canyon National Park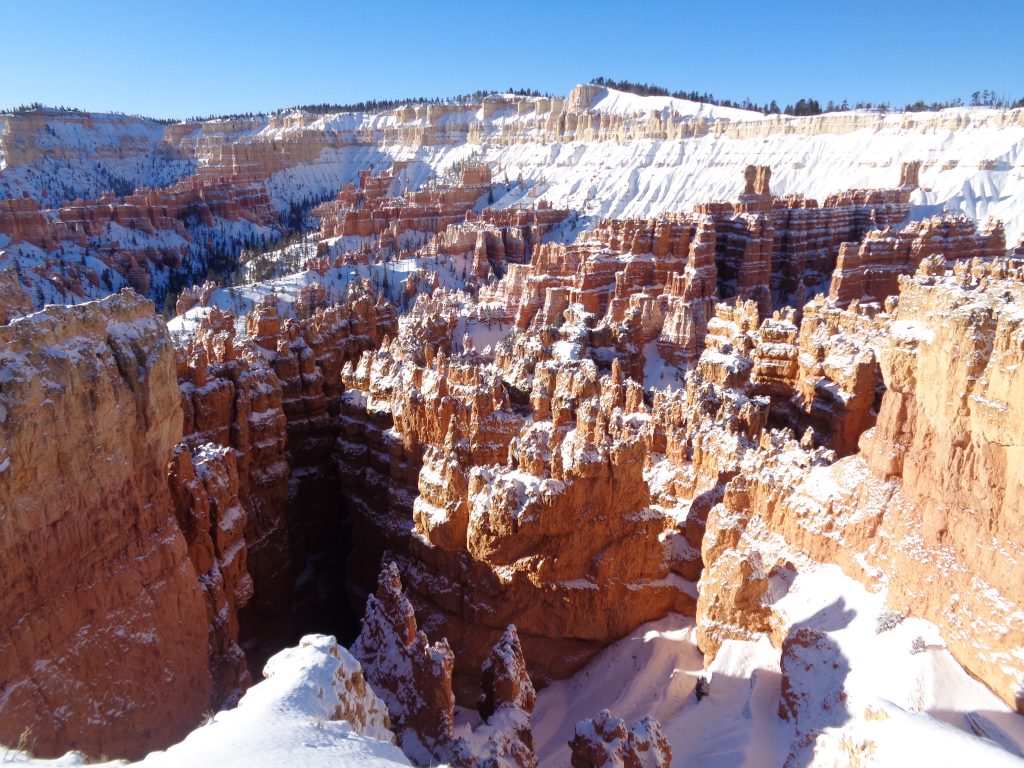 Originally designed to be a national monument instead of a park, Bryce is one of the most iconic, picturesque parks easily recognizable in a photo by its red rock hoodoos.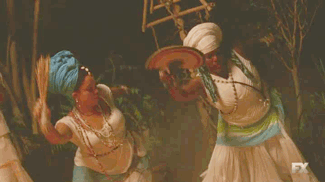 No. Not Voodoos…HOODOOS. You know. The spire-shaped rock formations? Like, duh??
Yes, Bryce Canyon is filled with these sedimentary wonders.
Fun Facts and Things to do at Bryce Canyon: First, despite its name, Bryce Canyon is not a canyon at ALL! It's actually sort of the opposite. In reality, it is a collection of giant natural amphitheaters (And you thought you couldn't attend any concerts this year!) in the Cenozoic-aged rocks of the Paunsaugunt Plateau.
Mr. Ebenezer Bryce himself, a Mormon pioneer, had the privilege of having this entire park named after him after homesteading the area in 1874. Poor guy's father disowned him after leaving the traditional Mormon church to join the Church of Jesus Christ of Latter-Day Saints…so at least he got a little consolation prize?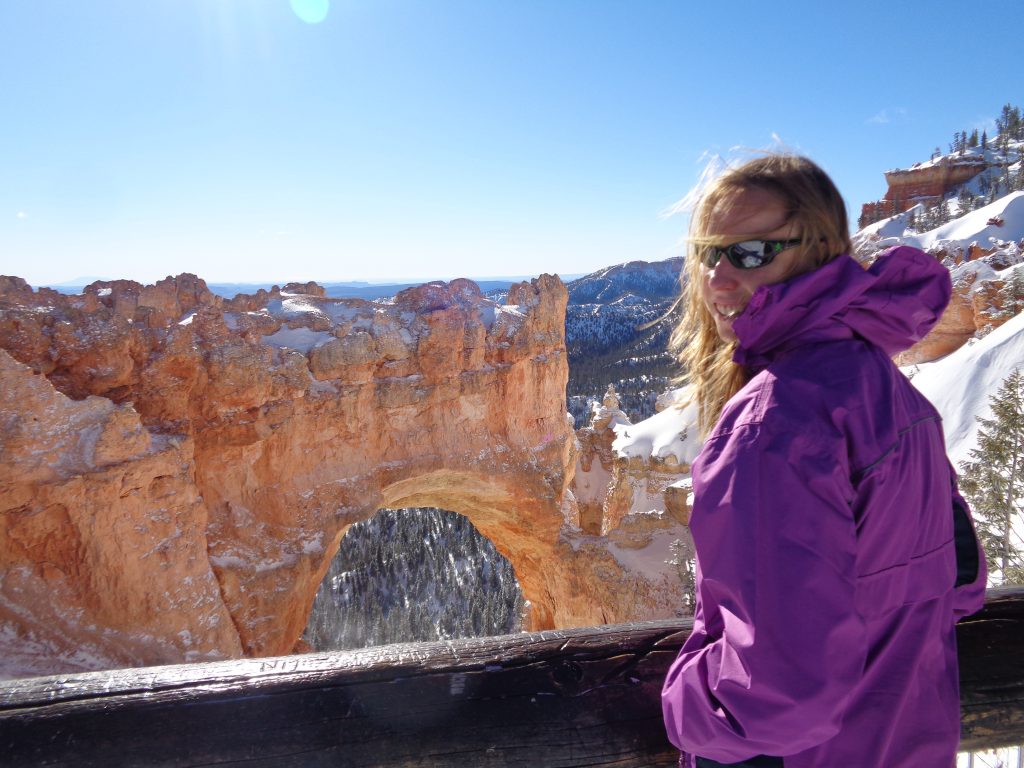 So what is there to do? Unlike Zion, Bryce's main points (literally) of interest are mostly sightseeing and observing the natural wonders. Because Bryce is so unique, visiting this park is very different than visiting other parks because IT is very different. Some of the best things to do in Bryce are driving or hiking around to the various lookout points.

Best Time to go: The warmest stretch of May-September is the official agreed upon time that is best to visit Bryce. But if you're more of a winter person, visiting between October and April has benefits such as fewer crows, picturesque foliage and snowshoeing and skiing opportunities.
On a personal note, I visited Bryce sometime in late February to early March but I can't remember which. My brain froze when I was there in the sub zero temperatures and blustering snow! If you don't love the cold, maybe stick to those summer months!
TOP SIGHTS: Inspiration Point, Sunrise Point, Bryce Point, Bryce Amphitheater, Scenic Drive, Navajo Loop Trail, Queens Garden Trail, Natural Bridge, Rainbow Point and Yovimpa Point, Fairyland Canyon
Is it Open?! YES! Every park on this list is open! In fact, all roads, loops and trails are now open to the public. Also, as of July 17th, the free park shuttle to the points of interest is back up and running in the newly reduced hours from 8am to 8pm (What was it before??) but keep in mind they have a 20 person maximum on each shuttle.
Also, free masks are given out upon request. So again, they've been planning for your safety all along, right?!
Closings: Currently the only closure is the North Campground. Sunset Campground remains open with reservations only. The Visitor Center is also open with the exception of the theater, which is closed. Guess you'll have to just go to that much more socially distant outdoor amphitheater instead!
#2. Yellowstone National Park (96% in Northwest Wyoming, 3% in Montana and 1% in Idaho)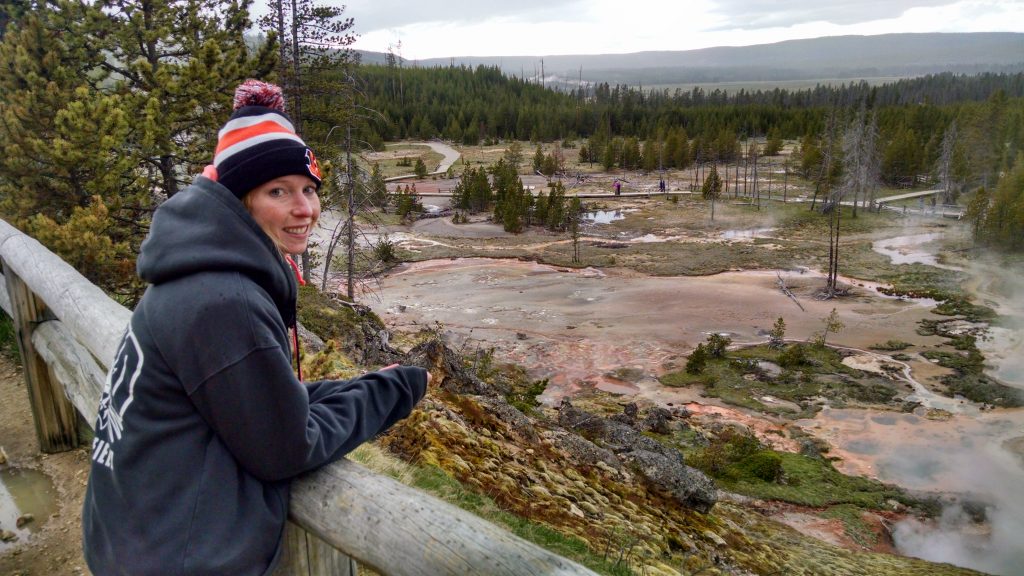 Arguably, Yellowstone is one of the most interesting national parks in the country and if you love volcanoes, geothermal activity and wildlife…well…just don't be in the wrong place at the wrong time!
Fun Facts and Things to do in Yellowstone: Yellowstone is not only the first national park in the US but also the world. The park houses half of the world's hydrothermal features and it's…shocker..a UNESCO World Heritage Site. It is an area filled with alpine rivers, deep canyons, boiling mud pools and geysers, rich green forests and an abundance of wildlife such as bison, bear, elk, moose and other animals covering around 3,500 square miles of land. 
You know what else Yellowstone is? A giant SUPER VOLCANO.
And no, I don't mean that it's like…"a super awesome volcano." I mean like it's a volcano that last erupted 2.1 million years ago and covered 5,790 surrounding square miles with a nice coating of ash as its aftermath.
Now how's THAT for a good protective covering?! I bet there could be no Covid-19 penetrating THAT barrier!
The volcano remains active today and it's due for another eruption.
Another BIG eruption.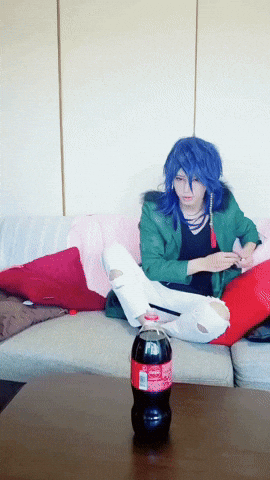 Like I said, just don't be in the wrong place at the wrong time!
Like Bryce Canyon, Yellowstone is also about the sightseeing and less about the actual activities, so driving and walking to points of interest are mostly what you can expect to be doing.
If you want to get the full experience, I also recommend camping in one of the many campsites around the park. Just don't forget about the temperature drop that occurs with the elevation change, realize you didn't bring enough blankets and subsequently leave your midnight hydration source outside your sleeping quarters!
Also, unlike other national parks you visit, it's pretty imperative that you remain on the boardwalk-style paths unless you want to end up boiling yourself for dinner in one of the area's many natural mud soup crackpots!
Although it may be temping to dive into what looks like a luxurious natural Jacuzzi on a cold afternoon, as evidenced in this sign, it's likely not worth it.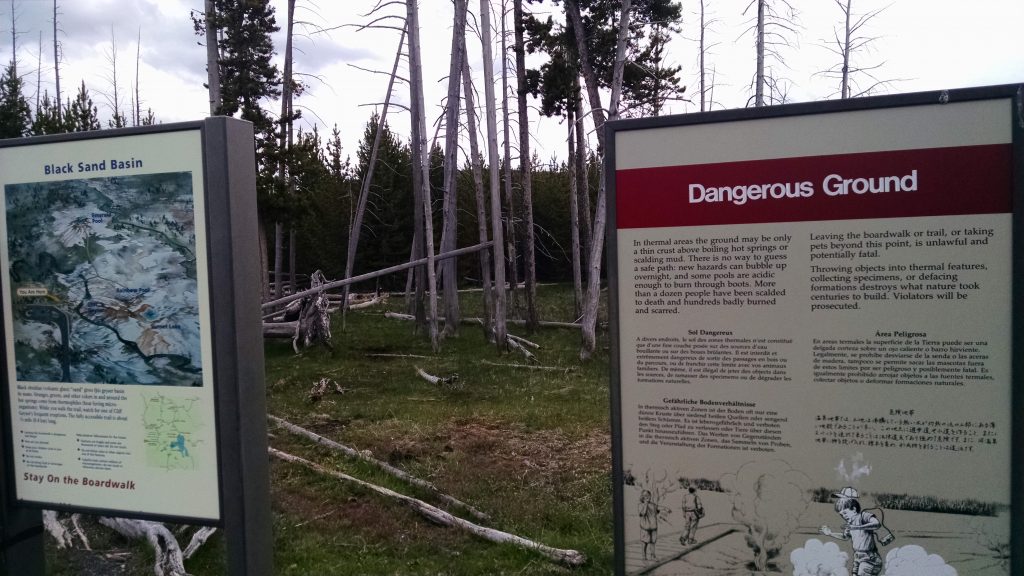 But on the upside, you'll be sterile! Where are those pesky germs NOW?!
TOP SIGHTS: Old Faithful (the infamous geyser that erupts on a predictable schedule), Grand Prismatic Spring, Mammoth Hot Springs, Grand Canyon of Yellowstone, Yellowstone Lake, Hayden Valley, Norris Geyser Basin, Lower Geyser Basin, West Thumb Geyser Basin, Lamar Valley, Upper Falls, Tower Falls
Best Time to Visit: If you visit during the shoulder months of April-May or September-October, you'll likely avoid large crowds. You could also go during the more crowded summer months in exchange for some warmer weather. I recommend this option if those boiling natural water pools are becoming increasingly tempting by the minute. It was pretty chilly when we were there in May!
Is it Open?! YES! Every park on this list is open! Phases 1 and 2 of reopening were complete in May and June meaning campgrounds, backcountry permits, cabins, tours, boating and fishing areas and some Visitor Centers reopened. As of July, phase 3 was initiated as health conditions allow. Commercial buses are beginning to resume, hotels are reopening and ranger programs and additional park facilities are beginning to also come back to life.
Closings: Good news! Not much is closed anymore in Yellowstone now since phase 3 of reopening has been initiated. The only campground remaining closed is Fishing Bridge but that's only because of construction (What a refreshing and welcoming breaking-the-trend reason for closure! Welcoming construction!
Only Covid could make the words "welcome" and "construction" ever go together in a sentence.
Oh and ONE final recommendation in Yellowstone. You should definitely buy "Road Block" beer from one of the little stores or drink it at a restaurant in the nearby town of Cody. Just look for the cans with the picture of the cartoon bison walking down the middle of the road on the front. To this day, Road Block is my absolute favorite beer and it is ONLY available in this corner of the country!
Trust me. I'll make more sense when you get there.
#3. Great Smoky Mountain National Park (Eastern Tennessee and Western North Carolina)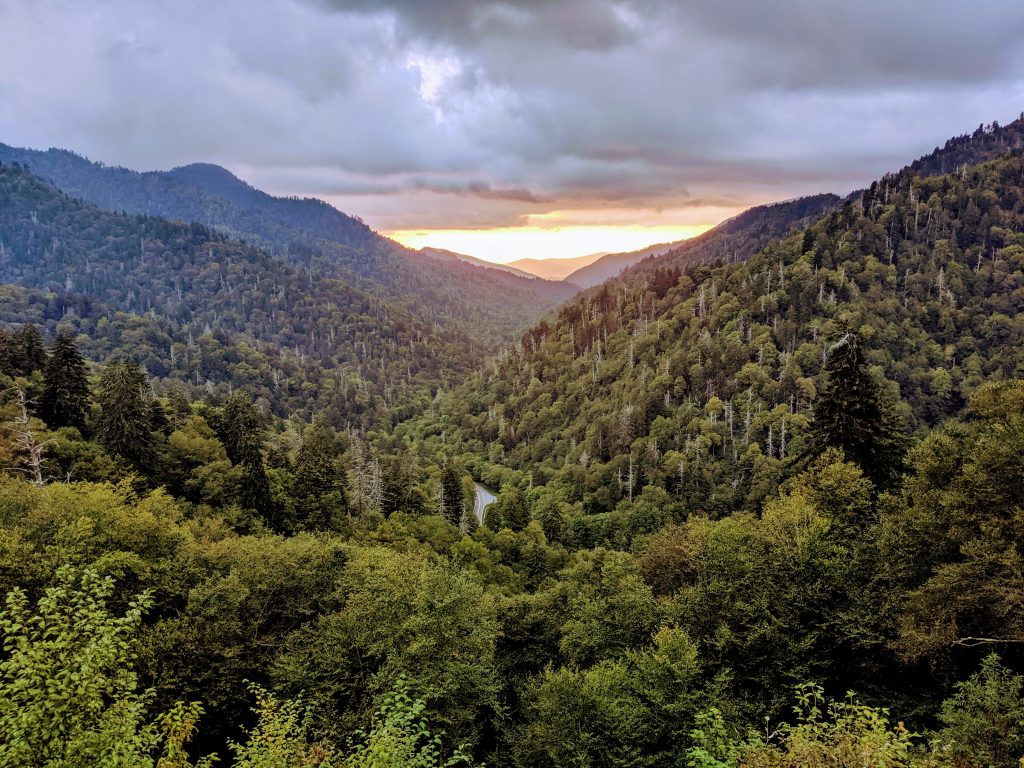 OK, so let's take a little break from the western part of the country and move on east. If you live in the Midwest like I do, this is a very conducive little weekend drive and getaway depending on where you are from.
And best yet? It's right at the foot of the quaint little mountainous vacation town of Gatlinburg, TN, to add to the fun! Heard of it?!
We visited Gatlinburg and the Great Smoky Mountains at the end of last summer and it was only around a 4.5 hour drive from Cincinnati, where I grew up. It's also an easy drive from multiple other cities in bordering states like Knoxville. Louisville, Charlotte or Asheville just to name a few.
Fun Facts and Things to do in the Great Smoky Mountains: As the most visited national park in the country and another UNESCO World Heritage Site, the Smoky Mountains are a subset of the Appalachian Mountains known as the Blue Ridge Mountains and these mountains just so happen to be some of the oldest in the entire world (about 200-300 million years old to be exact)!
Unlike most national parks in the US, there is no entrance fee for the Smokies.
They figured you'll probably spend enough as it is on tourist trap museums, mini golf and pounds of fudge in Gatlinburg!
The Smoky Mountains were originally named by the Cherokee who referred to them as "Shaconage," which meant " land of blue smoke." Since obviously the park is not burning to the ground, we can assume that this "blue smoke" referred to the blueish appearance of the steaming water vapor given off by the plentiful vegetation, which coats the forest floors.
When it comes to things to do in the Great Smokies, you won't be left high and dry (Literally. Remember what I said about that water vapor?!). With over 800 miles of hiking trails, 2,900 miles of streams in which to fish, hundreds and hundreds of animal species, 1,500 species of wildflowers and 78 historic sites created by the earliest pioneers, you'll certainly have your pick of things to do besides sitting at home mindlessly staring at the television wondering if that sneeze you had 15 minutes ago could be grounds to purchase life insurance.
Besides hiking, fishing and sightseeing, many visitors at Smoky National Park enjoy cycling, ziplining or camping.
Had enough of the great outdoors? Remember there are those fudge shops and secretly oh-so-fun tourist trap museums back in Gatlinburg waiting for you!
Besides. Chocolate and fun equate good health. It's science!
TOP SIGHTS: Historic structures of the early settlers in Cades Cove, Clingmans Dome, Mount Le Conte, Roaring Fork Motor Nature Trail. Grotto Falls, Chimney Tops, Laurel Falls, Abrams Falls Trail, Alum Cave Trail, Rainbow Falls Trail, Gatlinburg and Dollywood nearby
Best Time to Visit: The summer months of June through August are the most popular months to visit the Smoky Mountains but if you're looking for slightly fewer crowds and some pretty terrific fall foliage, October is an excellent time to go! Also, it gets pretty hot in the summer months in Tennessee, so I'd personally say fall time is a win-win?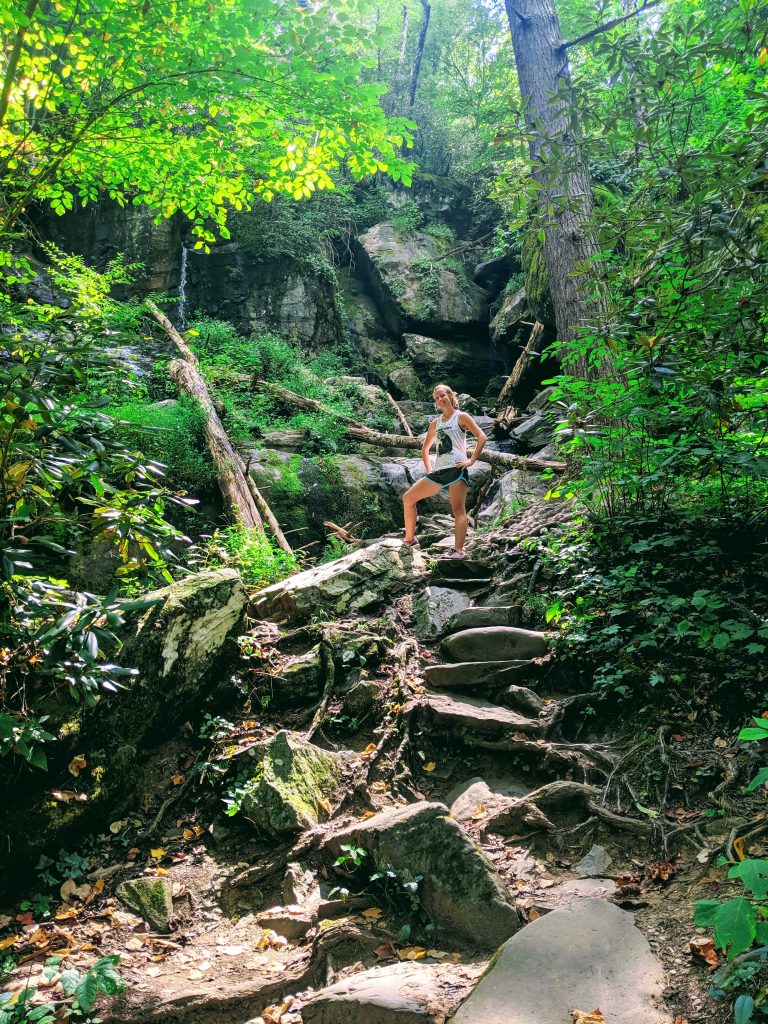 Is it Open?! YES! Every park on this list is open! The park began its phased reopening plan on May 9th, 2020 and has continued ever since. ALL TRAILS ARE NOW OPEN, so cheers to that, right?! More good news! Most roads and all picnic areas, backcountry campsites and shelters are also now open.
Closings: Hail more non-coronavirus-related closures! Trillium Gap Trail will be closed from Grotto Falls to the summit of Mt. Le Conte on Mondays through Thursdays thought November 12, 2020 for Trails Forever Rehabilitation work, however, hikers can still walk from the trailhead to Grotto Falls.
Congratulations! You now have definitive plans for Labor Day weekend this year other than going to grill out and watch cooking shows at your in-laws' house. Again.
You're welcome!
#4. Yosemite National Park (Central California)
OK, all the way to the west coast we go this time! Yosemite is my second favorite national park after Zion. I just visited here for the first time last November and it was ABSOLUTELY STUNNING.
No really, I climbed a tree that incidentally shot hundreds of tiny splinters into my hands while I was there. Don't do that. Be stunned in a visual manner by beauty. Not in a tactile manner by microscopic wood chips.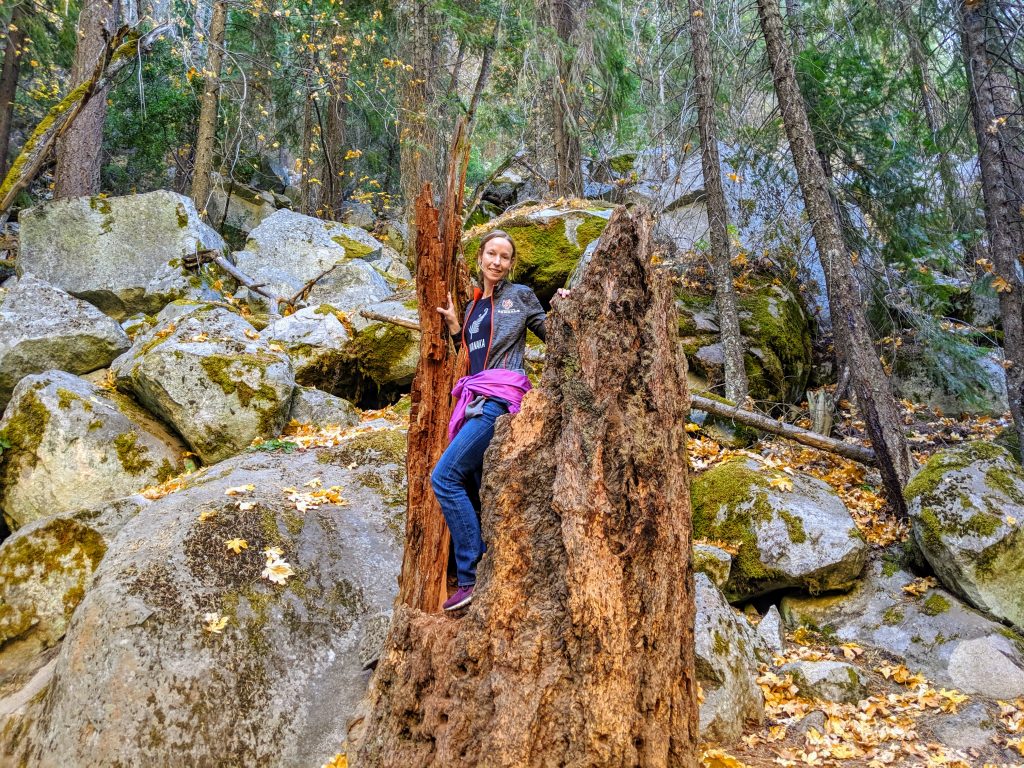 Fun Facts and Things to do in Yosemite National Park: We've now left he grassy Appalachian mountains of the east and arrived at the rocky formations of the Sierra Nevada range of the west. As the third ever US national park, the area is known for its granite cliffs that glow like a giant campfire at sunset, tunnel views, interesting rock formations, breath-taking valleys and waterfalls and some pretty old sequoia trees.
Long before Yosemite was actually labeled a national park, the land was walked by Native Americans until the Gold Rush, which brought in new miners and settlers.
Later, president Lincoln signed the Yosemite Land Grant protecting parts of the land, which is the first time government had ever done something like this sheerly because of natural pristine beauty.
There has since been many more firsts…
The park is now home to over 400 species of animals, one of the tallest waterfalls in the world and also a natural playground for the rock climbing and winter sports junkies!
Aside from engaging in adrenaline-pumping activities scarier than wearing a mask in public, there are many other activities to engage in at Yosemite.
Hiking is obviously a no brainer. You'll have your pick of trail types from strenuous vertical uphill climbs to green lush foresty paths and valleys to shorter walks surrounded by waterfalls. If your feet need a rest, you can also just drive to numerous overlooks and "must-see sights."
Some more options are to go camping, head to the Visitor or History Center to learn about Yosemite's rich background and earliest inhabitants or even just visit Curry Village to go ICE SKATING under Half Dome (one of those "must-see" rock formations)!
How COOL is that?!
TOP SIGHTS: Yosemite Valley, Half Dome, Yosemite Falls (potentially dry in if you visit later than summer), El Capitan, Bridalveil Falls, Nevada Falls, Vernal Falls (my personal favorite, which is very impressive in those fall months, if Yosemite Falls is dry), Glacier Point, Tunnel View, Mirror Lake, Mariposa Grove
Best Time to Visit: OK, so this is a different type of situation here. Let me begin by telling you that Yosemite can see a great deal of snow and many roads are likely to be closed between November and March. These roads may not be fully reopened until May or even June.
That being said, the most "recommended time to visit" is between June and September, which is also around the time you are most likely to see the famous waterfalls at their gushing primes. After the summer months, things tend to dry up a bit.

BUT….and here's the big BUT (with one "t" in case you were snickering at my writing)…we visited Yosemite from the beginning to middle of November and it was, as I mentioned, STUNNING (even before my tree mishap). The fall foliage was unbeatable and even though many of the waterfalls and lakes were dry or less intense, there was something extremely serene and peaceful about walking in a dried up riverbed filled with more beautiful colors but fewer crowds.
Not to mention, if you plan on embarking on one of those aforementioned vertical uphill climbs, having slightly cooler weather conditions couldn't hurt.
Oh, and those shuttle buses? No wait time or crowds by November, which you may or may not be trying to avoid right now!
Is it Open?! YES! Every park on this list is open! Just make sure you make your reservations ahead of time! You can make a day-use reservation (valid for 7 consecutive days), a campground, lodge or a permit reservation. Either way, just make sure you do your due diligence and research when it comes to planning your visit.
Bear in mind that EVEN IF YOU HAVE A PASS, you STILL NEED TO MAKE A RESERVATION (this one is for people like my dad who hold up traffic at the entrance gates of all national park bragging about the senior pass benefits)!
As far as campgrounds go, Upper Pines and Wawona Horse Camp are both open but running at 50% capacity. They also require reservations. It is to be determined if other campgrounds will reopen this year.
Let's talk trails. ALL TRAILS ARE OPEN! Cheers! Just keep in mind that there are a few modifications in place. Between 9am and 4pm, the Mist Trail descending from Vernal Falls is prohibited.
Once you get to the top, you must self-quarantine behind a rock for 10 days just in case you got too close to someone on the way up.
OR…ya know… if you don't want to do that, you can also just continue the upward climb to Clark Point and take the John Muir Trail back down. There's that option too!
Closings: Any campgrounds NOT listed above as open may be closed. As I also mentioned, Mist Trail descending from Vernal Falls will be closed basically during daylight hours (Night hike, anyone?!). The area between the footbridge and the waterfall at Lower Yosemite Falls Boulder is also closed along with Crane Flat Helibase, Chowchilla (this sounds like a hot sauce) Mountain Base and Bridalveil Falls for maintenance work.
Shuttles: Shuttles are NOT running in Yosemite this year. These shuttles include Yosemite Valley, Mariposa Grove and Tuolumne Meadows.
Bus tours are not operating this season either. YARTS, the regional transit system, IS running with reduced capacity at 30 people per bus (reservations recommended).
Now…who volunteers to take me back to the park with them this year as a thank you for doing this research?!
#5. Acadia National Park (Eastern Maine)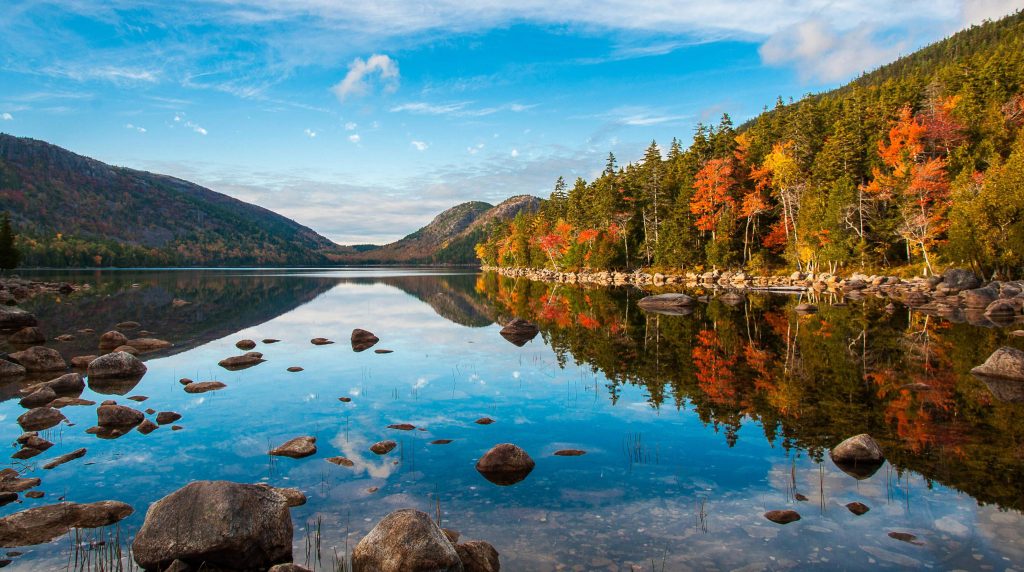 Let's head all the way from the west coast back to the east coast. Located on Maine's Mount Desert Island, southwest of Bar Harbor, Acadia National Park is one of the most visited and well-known parks in not only the US but also the entire continent of North America!
When visiting the park, visitors often also visit a gateway town known as the aforementioned Bar Harbor, the popular quaint little coastal town filled with shops, bars and restaurants.
Fun Facts and Things to do in Acadia National Park: The park is part of what's known as the Schoodic Peninsula and also the first ever national park established east of the Mississippi. To this day, it is still the only true national park in the northeastern United States.
Historically, the park was inhabited by Native Americans of the Algonquian Nation over 12,000 years ago. The name "Acadia" National Park was a relatively recent development in 1929. Before this, the area was initially designated "Sieur de Monts National Monument" and later, "Lafayette National Park."
You know…Just in case those names ever came up on your Thursday night pub trivia!
Acadia National Park's landscape consists of rocky beaches along the Atlantic coast, woodlands and the infamous Cadillac Mountain, which is the highest point of the US on the east coast. The park is also filled with wildlife such as birds, moose, bear and fish.
Aside from our usual hiking suspect, you can also drive to many scenic points on Park Loop Road.
If you're looking for something a little more active and different, biking the Carriage Roads is another popular activity. The Carriage Roads are an extensive 57 miles of paved roads closed to cars and open only to bikes. It's a great way to see some of the famous lakes and ponds the park has to offer all while not feeling guilty about missing your weekly spinning classes at the gym while on vacation!
After you've worked up a good appetite and hiked around the notorious Jordan Pond, you can visit the Jordan Pond HOUSE to indulge in the well-known and raved about "popover" pastries. Trust me. You just may end up never leaving.
Hey, is hyperglycemia a symptom of Covid?
TOP SIGHTS: Cadillac Mountain, Jordan Pond (And don't forget about that restaurant with the popovers heavens!), Park Loop Road, Carriage Road, Schoodic Point, Sand Beach, Thunder Beach, Bass Harbor Head Lighthouse, Frenchman Bay, Precipice Trail, Otter Cliff, Chaplain Mountain, Bar Harbor itself
Best Time to Visit: The most pleasant time to visit temperature-wise is in the usual summer months between around May through September. But just keep in mind you might be practicing social proximity versus social distancing. If you want to avoid the usual crowds, you might consider going around October or so (Can you tell I love fall?). Plus, think about that fall foliage again!
If you go later than the fall months and wait until winter, be aware that Maine is pretty far north. North means winter snow, in case you forgot! Oh well. You'll just have to binge on popovers to increase your body fat and you'll be just fine!
Is it Open?! YES! Every park on this list is open! Carriage roads, Park Loop Road and most of the hiking trails are open at least! But if you plan to camp, campgrounds will not begin to reopen until August 1st. Backcountry camping is also not allowed at this time. Western Mountains Roads north of Seal Cove Road are also closed to traffic but open to hiking and biking.
As far as trails go, Precipice Trail, Jordan Cliffs Trail, Valley Cove Trail and a portion of the Orange & Black Path are closed for another cheers-to-not-being-covid-related-reason: Adult peregrine falcons are engaging in courtship and pre-nesting behavior!
Hmmm. I'm getting a visual here…

Closings: As mentioned above, Precipice Trail, Jordan Cliffs Trail, Valley Cove Trail, a portion of the Orange & Black Path, car access to Western Mountain Roads and campgrounds are all closed. Bear Brook and Thompson Island Picnic Areas are also closed. In addition, Island Explorer bus service has been suspended through the 2020 season.
Hulls Cove Visitor Center is also closed and will not reopen sooner than August 1st. Not to worry. There is still a ranger out front to help you in one of those nice comfy "Covid-free" outdoor settings!
There are two final VERY IMPORTANT THINGS TO KNOW before you go planning your trip.
First off, if you do travel to Acadia National Park, it is essential that you purchase your tickets ahead of time and print them out to display on your dashboard.
Secondly, as part of the requirements in the state of Maine, if you are traveling from another state that is NOT Connecticut, New York or New Jersey, there is a MANDATORY 14 DAY QUARANTINE upon entering the state, at least for the time being.
What they DIDN'T specify is whether or not you can self-quarantine at Jordan Pond House with those delicious popovers.
To Maine I go!
#6. Glacier National Park (Northwest Montana on the border of Canada)
Straddling the Continental Divide, Glacier National Park is consistently seen on top US national park lists and for a damn good reason! Between the glacier-carved peaks and valleys, diverse wildlife, turquoise lakes and streams and dense, rich ancient forests, this "Crown of the Continent Ecosystem" is absolutely the perfect park to visit to restore your pre-pandemic sanity.
Fun Facts and Things to do in Glacier National Park: The park is what is referred to as the world's first international peace park to honor the comradery between the US and Canada. But right before this, say…oh…a short 12,000 years ago or so, the Blackfeet, Salish, and Kootenai Tribes once roamed this region around the time of the Ice Age.
Nowadays, with more than 700 miles of trails, I think it's safe to say it's…shocker…a great place to hike! But other than hiking, many visitors opt to go cycling, camping or even kayaking in one of the many lakes of the region.
If you have an interest in photography or you're one of those people who feels the need to document every waking second spent engaging in a remotely adventurous activity, I feel you because I'm one of them!
Your friends may detest your compulsive photo snapping at the time but they'll love you for it later when you're all at that party and they're asking to see the picture of "that time Tommy didn't follow directions and decided to bathe in one of those boiling mud pool crackpots back at Yellowstone!"
Plus, you automatically win every argument you ever have. You have proof!
Anyway, no matter what kind of picture taker you are, Glacier National Park will likely send you into orbital camera lense with excitement!
TOP SIGHTS: Going-to-the-Sun Road, Iceberg Lake, Grinnell Glacier, Lake McDonald, Logan Pass, Saint Mary Lake, Two Medicine Lake, Highline Trail
Best Time to Visit: The ideal time to visit is…*ding ding ding*..in the summer months! June-early September is agreed to be the best. Temperatures around those months hover around the 70's with the lows getting only to around the 40's. Going outside these months might turn you into a Popsicle. You might also run into more road closures due to weather.
Or worse! Those cold temps may disable your hands and make them too numb to snap those photos!
Is it Open?! YES! Every park on this list is open! Glacier National Park is basically broken into two halves (West Glacier and East Glacier) and most of the park openings right now are on the west side. All east entrances are currently closed since the park began its reopening plan on June 8th, 2020.
More specifically, the Going-to-the-Sun Road is open from Rising Sun in West Glacier but there is no access to St. Mary Lake and vehicles need to turn around at Rising Sun and return to West Glacier.
If you're looking to go boating, currently your only open options are Lake McDonald, Lake McDonald or…oh…Lake McDonald!
But hey! If you want to go horseback riding, there is good news! Swan Mountain Outfitters began horseback rides at Apgar on June 13 and at Lake McDonald corral on June 20.
A big note to make is that there is also no gasoline available in the park, so plan accordingly unless you want to have crazy stories to tell at Thanksgiving dinner (if you ever get there)!
Backcountry permit reservations ahead of time are also NOT available BUT they ARE available in person at the west side at Apgar Permit Center from 8am-4pm on a first come first serve basis.
One final note about the reopening plan is that parking remains limited and spots fill up quickly (I'm confused. How does closing half the park and making visitors all flock to a few select locations promote social distancing again?).
Take Avalanche, for example. If you want to go there, you need to park at the Logan Pass Visitor Center, which may fill up by 8am or earlier. If you plan to visit Glacier, don't forget to pack your backup plans and flexibility of times and days you hit specific trails!
Closings: Many trails on the east side of the park are expected to remain closed through the remainder of 2020. This includes some popular areas and trails such as Two Medicine Lake and Many Glacier. If you're looking for specific boat or bus tours, unfortunately Glacier Boat Company, Sun Tours and Red Bus Tours are also suspending services for 2020.
One last bit of information of notable importance is that many popular lodging and cabin options in East Glacier such as Many Glacier Hotel and Rising Sun Motor Inn are also closed (probably a financially sound plan seeing as to you can't really hike on the east side right now anyway).
Just a passing final thought I wanted to make (I feel like I've had a "final thought" like 10 times on this park). Glacier National Park is SO vast and there is SO much to do and see. Because of this, maybe breaking your visit into two chunked trips is a better idea anyway! You could take the time to really explore West Glacier and when the time is right, spend your next trip at East Glacier!
Plus, you'll get two separate vacations out of this, right?! So…
One final thought…
Kidding. No more thoughts on this one. Next!
#7. Rocky Mountain National Park (Northern Colorado)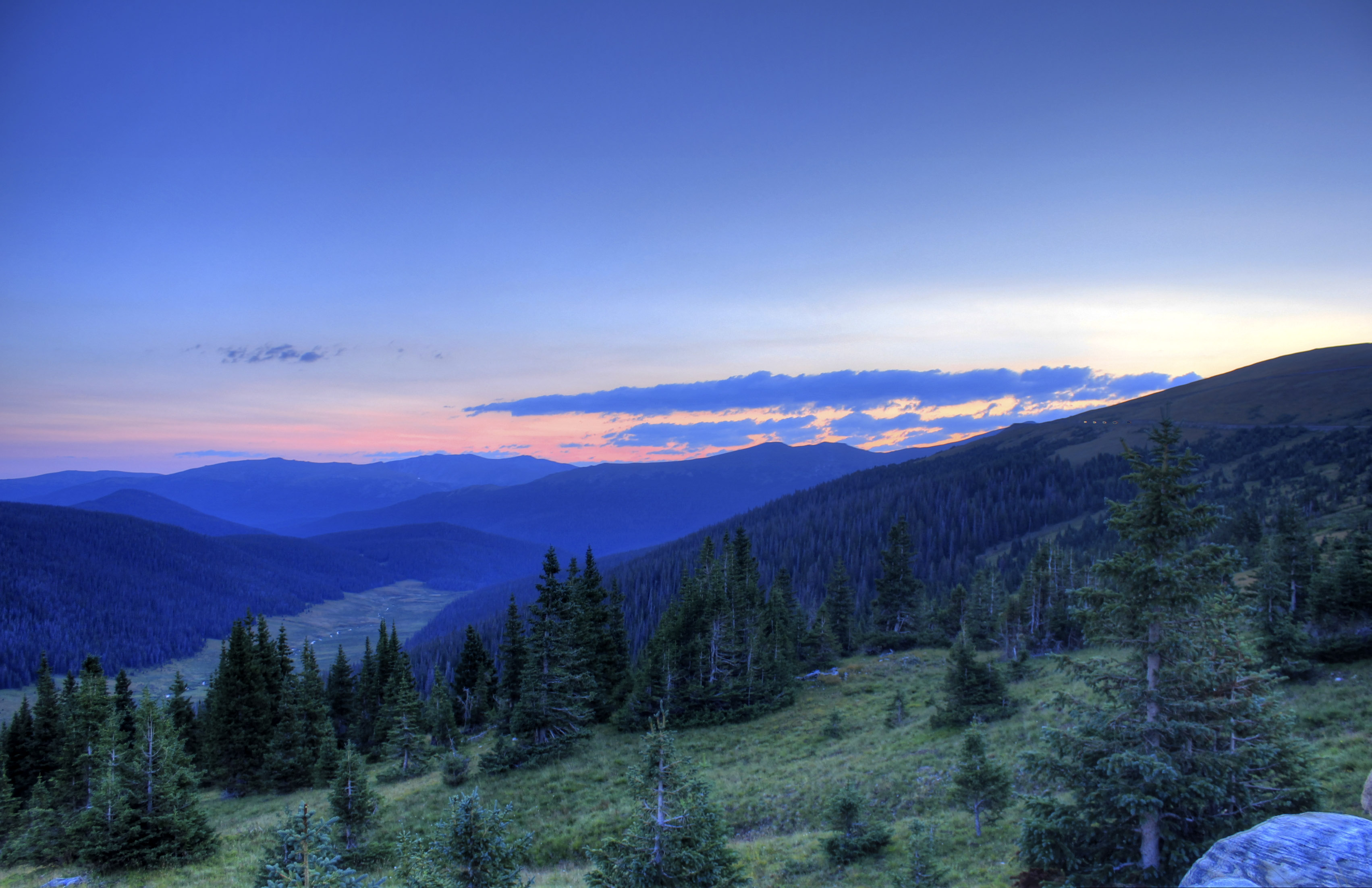 Anyone that knows me knows I actually want to live in Colorado. I know. It's ironic because I hate being cold but I love the Rocky Mountains JUST a tiny bit more. Hey, maybe the cold weather-related numb fingers would curb my picture taking habit! Wishful thinking, right?
Not. That would never happen.
Fun Facts and Things to do in Rocky Mountain National Park: Can you tell I love mountains? This one is another natural alpine beauty on the Continental Divide for you! With the absolute highest peak measuring at 14,259 feet, there are over 355 miles of trails in this park alongside about 150 lakes, 29 waterfalls and 450 miles of streams.
Swimming, anyone?
The park's notorious Trail Ridge Road, which originally was traveled along by the Paleo-Indians for forage for food, is also the highest continual highway in the country with a top peak at 12,183 feet (about a 1,100-story building to put things into perspective).
Oh, and you can get to all of this just 76 miles away from Denver!
As far as activities go, there are several "do not misses" on this list! Aside from the Trail Ridge Road I already talked about, you should be sure to visit Longs Peak, which is the northernmost "fourteener" (AKA any mountain peak at LEAST 14,000 feet in height…you know…the ones that got picked on in alpine high school and grew up to be the cool kids on the block…literally…). Longs Peak is known for being the absolute highest peak in the entire park. So…yeah. Don't miss that one, if that's even possible.
As you may be noticing, sightseeing is pretty popular in Rocky Mountain National Park. You know what else is popular? Hiking. I bet you never would have guessed that!
But if you're, once again, looking for something a little different to do, like in other parks, you can take scenic drives, camp, bike, ski or even spend an afternoon with Colorado's fastest and longest zipline! And during all of these activities, who knows? You just may stumble upon some pretty interesting wildlife like elk, big horn sheep, mules or marmots!
Oh, and if you're really into adventure, you can also visit the Stanley Hotel nearby. You know…the ACTUAL hotel from the movie "The Shining."
As you see, Rocky Mountain National Park is nothing short of…
…well…it's nothing short at all!
TOP SIGHTS Trail Ridge Road, Longs Peak, Bear Lake, Emerald Lake, Sprague Lake, Chasm Lake, Dream Lake, Downtown Estates Park, Stanley Hotel, Alberta Falls, Adams Falls, Ouzel Falls, Twin Sisters Peak
Best Time to Visit: Rocky Mountain National Park is open everyday all year round but could you have guessed that summer months are best for this mountainous destination? As usual, between June and September is the ideal time to visit for the best weather and more-likely-to-be-open roads.
Visiting from October through March makes you that much "cooler," however, because by doing this, you get to avoid the crowds and consequently experiencing a more tranquil sense of solitude during your visit (Stay away, you germ-infested vacationers, you!). Oh, but just be sure to bundle up, bring your skis and definitely bring your hand warmers so that your fingers will be able to move enough to snap those photos you're still getting in trouble for!
Is it Open?! YES! Every park on this list is open! But this is another park that you must make reservations for ahead of time for both a timed entry permit and for camping if you arrive between the hours of 6am and 5pm. YOU MUST MAKE RESERVATIONS if you enter the park at all, even if you're just driving on Trail Ridge Road.
As of July 3rd, Old Fall River Road and the Endovalley are now open to cars and just about all of the trails and Visitor Centers are open, so cheers to that, right?!
Closings: Due to construction, not Covid, on Sunday nights through Friday mornings between May and September, US 36 west of Bear Lake Road junction to east of Deer Ridge Junction will have nightly closures from 7pm to 7am for road work.
But other than that, your main area of concern is just being sure you secure you admission ahead of your visit! I know, right?! A simple one for once!
But really… is life EVER really all that simple?
#8. Carlsbad Caverns National Park (Southern New Mexico)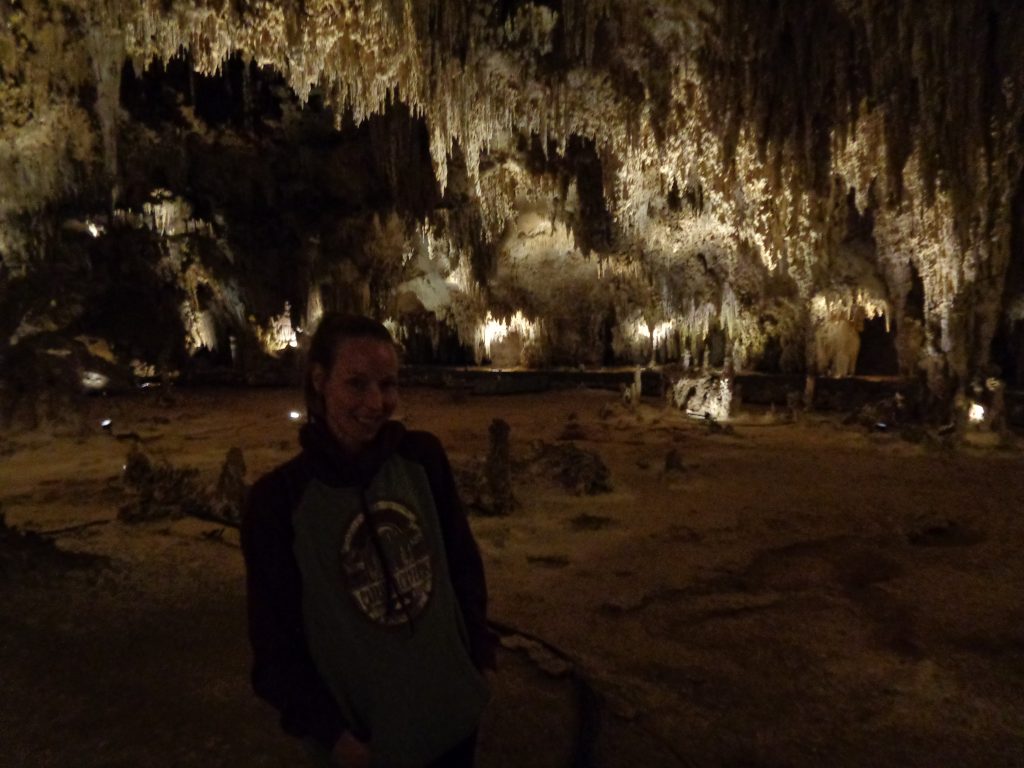 OK, so I'm terrible. I know that Rocky Mountain National Park was so fun and simple to visit but I regret to inform you that New Mexico is actually one of those states that requires that 14 day self-quarantine (or your length of stay if it's shorter) upon entering the state.
And this one doesn't have an alternative option to "hike the John Muir Trail back," unfortunately.
But I wanted to include this park because it is positively one of my absolute favorite national parks in the entire country and it is SO different from the rest. Also, it's not one you really always see on those "top national park" lists but it should be!
Also, in my defense, I have no idea how long the mandatory quarantine in New Mexico will actually last, so there's a good chance this might not even be a factor by the time you read this or get around to visiting, right?!
Fun Facts and Things to do at Carlsbad Caverns: OK, so you may have guessed by now that "caverns" actually refer to caves. But like…THESE caves are not just ANY caves.
Like…this park has permanently ruined cave visits for me now because nothing I have ever visited since this time has actually even come close to matching the Carlsbad Caverns.
Situated in the Guadeloupe Mountains in the Chihuahuan Desert, these caverns not only feature more than 100 different caves but there is even an underground shop, a cafe and restrooms! Now how's THAT for a cave?!
But I find that the really interesting part about these caverns is the history behind them. About 250 million years ago, Carlsbad Caverns National Park was the coastline for an inland sea. I won't go into the entire microbiological story behind the formation of the caverns but as one natural process lead to another, what was once an underground coral reef was eventually lifted above ground. But eventually, with the help of millions and millions of years of erosion and scientific processes that I'm not even going to begin to pretend I fully understand, the reef eventually became an underground 8th world wonder.
Anyway, the actual caverns themselves were discovered by a teenage boy as recently ago as 1898 (It's pretty crazy that 1898 seems recent in this circumstance!). The boy explored the caves using his homemade wire ladder, a torch and a ball of string to find his way out! Little did he know that one day his discovery would be famous!
Man. I can't even follow the GPS on my phone without getting lost. I MIGHT be somewhat envious.
Also…if only MY childhood "homemade cheese" discovery (AKA 5 weeks of letting milk spoil in the sun) had made ME famous!
Darn…next time.
So what IS there to see and do in the caverns? Well, you can use the underground toilets! That was my favorite part!
Kidding. Kind of.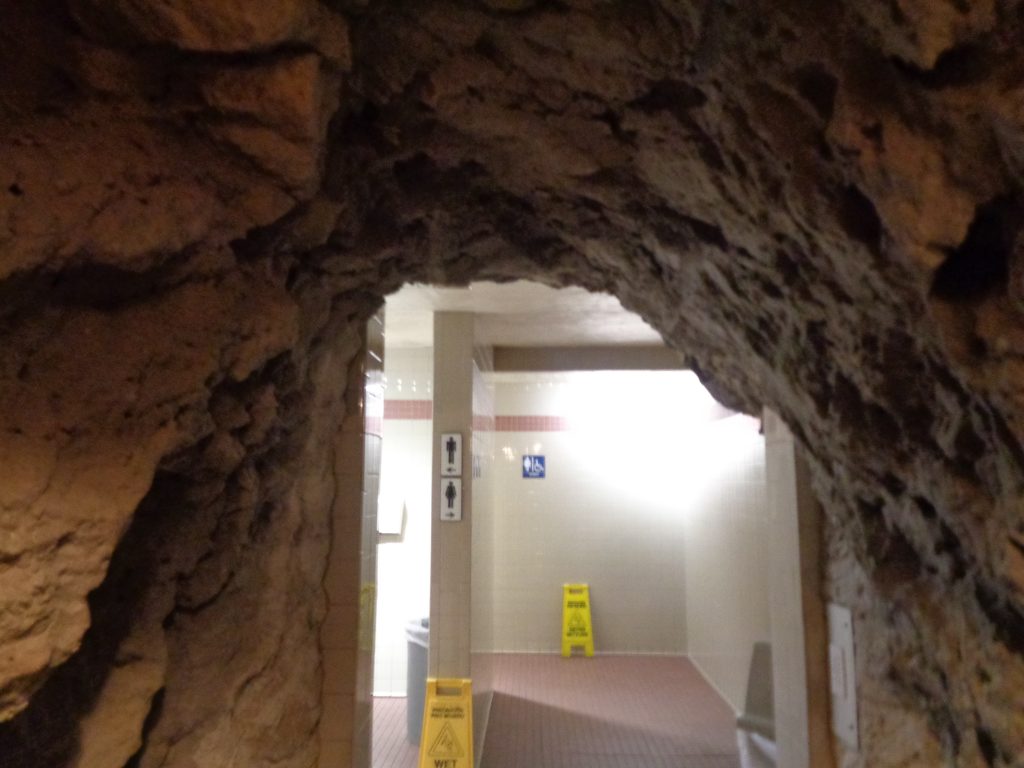 Well, to start with, a pretty neat way to enter the cave is through the "natural entrance," which is actually a steep 1.25 mile trail of switchbacks descending 750 feet below ground. The reason this way of entry is so interesting and well-known is because it is the same path early explorers entered and exited the caves and it gives you a pretty good overall picture and understanding of what you'll be in for for the remainder of your day as you descend into this natural wonder!
I'm sorry to say that in THIS destination, it isn't really possible to engage in activities like ziplining or skiing (unless your shoes are wet and you have an incident on one of the downwards switchbacks) but I have a feeling once you see the "rooms" and hear about the history of the discovery of these caves on your guided tour, your mind will enter a whole new world of adventure.
Most of these rooms, by the way, are named for what they look like. For example, the "Big Room" is the largest cavern chamber in all of North America, the "Kings Palace" looks like an ancient royal castle, the "Giant Dome" looks like…well…giant domes and the "Slaughter Canyons Cave" looks like a room full of shark teeth.
There's more but I will save this for…
TOP SIGHTS: Natural Entrance, Bat Flight Program, Big Room, Bottomless Pit, Kings Palace, Slaughter Canyons Cave, Lion's Tail, Giant Dome, Walnut Canyon Desert Drive
Best Time to Visit: A breath of fresh air (literally)! Unlike the other parks, the best time to visit THIS natural wonder is in the fall, winter or spring. Southern New Mexico can get pretty toasty with temperatures often getting over 100 degrees. Then again, you ARE in a cave, so this may not matter so much. But still. You have to get there and be outdoors at SOME point, right?!
Well hey…at least your fingers will be nice and warm for all that camera button clicking you'll be doing! Trust me. You're gonna need those hyperactive digits at THIS park!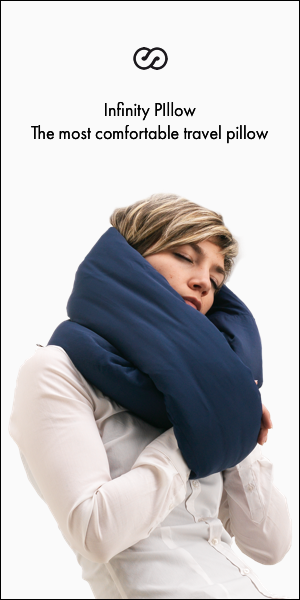 Is it Open?! YES! Every park on this list is open! As of June 16th 2020, the Visitor Center and caverns are back open and ready for the public! But be mindful that there is a limited number of guests allowed in the caverns each day. That magic number is 575, so get there early!
Also, expect a timed entry of 25 cave enterers (I wish this were like a highly respected profession or something like it sounds!) every 15 minutes. The last admission to the cave is at 1:45pm and tickets are sold on a first come first serve basis.
Also, all desert trails and park roads are now open, so am I redeeming myself yet from my bad news about the New Mexico quarantine at the beginning of this point?!
Woops…sorry for reopening that wound.
Closures: Aside from the limited snack menu in that aforementioned underground cafe, the only other changes right now are the suspension of all ranger-guided tours and the closure of the bat amphitheater from 5pm to 8am each night (pretty sure that's the only time it would be open ANYWAY but, ya know…).
Not to fear, good news Marie Elena is here! You can still watch the bats in the evening from the Visitor Center parking lot and a ranger-presented Bat Flight Program can be listened to on your car radio!
So be brave and and visit that cave you crave!
I TOLD you I missed my calling as a poet!
Sorry. Global pandemic brain. It's been a long year!
#9. Lassen Volcanic National Park (Northern California)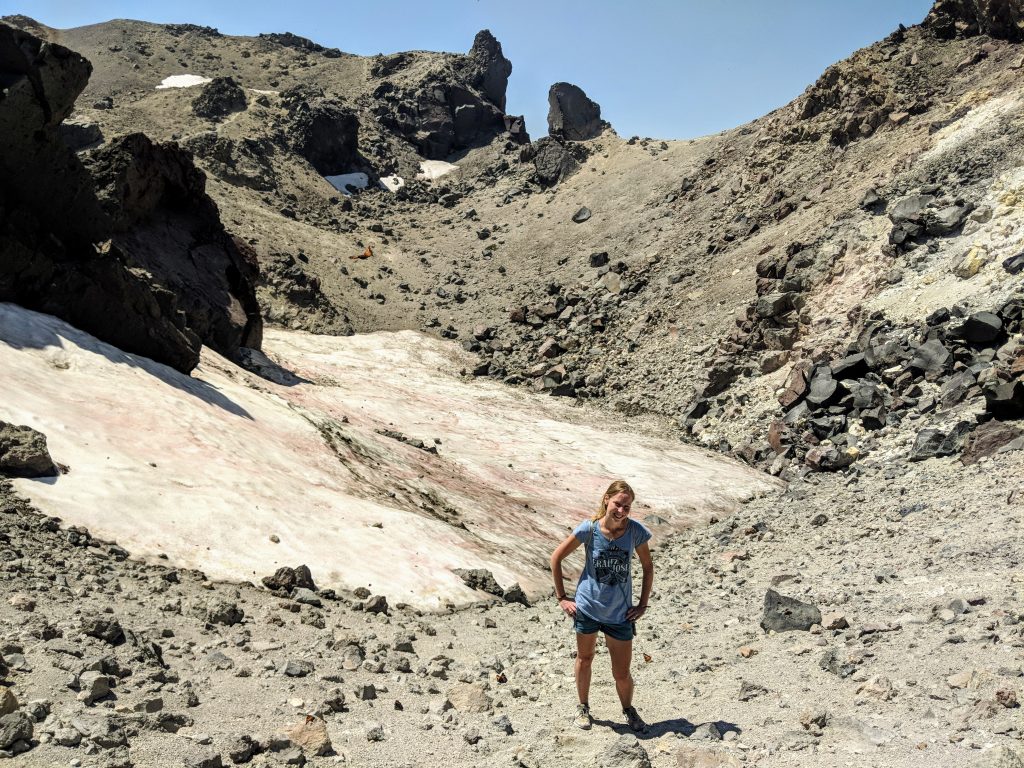 OK, so I was on a trend with trying to write about national parks in multiple areas of the country but like… I also really want to write about the parks that are my personal favorites, so it's back to California and back to volcanic activity we go (But like…both in the same park this time!).
Fun Facts and Things to do in Lassen Volcanic National Park: The park gets its name from the Lassen peak, which is the largest plug dome volcano (Can you guess what this looks like? Anyone?) in the entire world! It's also the southern most volcano in the Cascade Region of the US.
As with the other national parks, this area was first inhabited by Native Americans until it was colonized by white settlers in the mid 19th century. These settlers used the volcano as a reference point for the Sacramento Valley, which was particularly fertile for farming.
To this day, the entire area of Lassen remains volcanically active with the last Lassen Peak eruption being only about 105 years ago.  No one knows when there will be another eruption, so naturally hiking up the volcano into the crater just to see it for yourself is the only logical solution, right?!
Just make sure you bring enough water.
And don't get lost.
Also don't let anyone accidentally kick a rock down a hill full-speed at your ankle…even if it is your own spouse!
But if you do, make sure it's the light volcanic rocks you'd traditionally find around a volcano. Those don't hurt as bad!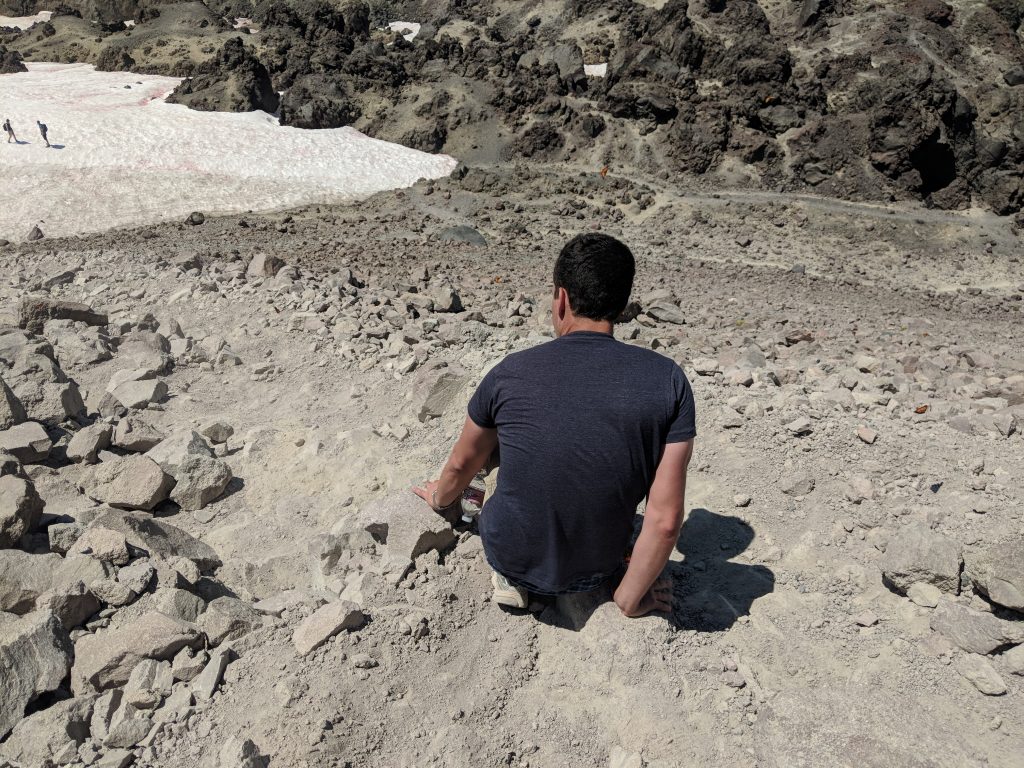 Anyway, if you're not into climbing the entire volcano like we did, there are several other interesting trails and paths filled with geothermal sights to gaze at along the way. From bubbling mud pots and geysers to lakes and rich forests, waterfalls and Lassen's largest and most popular hydrothermal trail known as Bumpass Hell (I mean, the name alone makes me feel badass just for writing it!), this place is definitely worth visiting from an adventure-seeking nature-lover's standpoint!
Aside from hiking and almost losing a limb to a volcanic rock in the middle of a crater, another popular activity to engage in at Lassen is camping.
Yes, Lassen is a pretty fantastic place. So load up the car with a pandemic-quantity of water bottles, your pursuit of adventure and a first aid kit just in case! Why…I DO believe it's time for another adventure!
TOP SIGHTS: Lassen Peak, Bumpass Hell (*shudders in empowerment) Manzanita Lake, Cinder Cone, Lassen National Forest, Butte Lake, Lake Helen, Juniper Lake, Kings Creek Falls, Sulphur Works, Boiling Springs Lake Trail (Just try to abstain from swimming in this one and assume the bubbles aren't powered by mechanical jets!)
Best Time to Visit: Because of the high elevation again, there is actually usually only a small window that is ideal for your visit to this park and often, many surrounding roads here don't even open until sometime in July due to potential weather conditions.
If you do travel to Lassen during a more historically colder month, you might consider attaching chains to your tires or gearing up for a potential panic attack in the car (If you've ever driven in the snow, you what what I refer to!). Most roads leading to the park will likely be closed November through May, so ideally try to keep your visit time between July and October if you can help it.
Is it Open?! YES! Every park on this list is open! This includes most of the valleys, trails and lakes. The Kohm Yah-mah-nee (OK now I feel like I deserve a karate black belt for typing that one!) Visitor Center and Loomis Museums are currently closed but a ranger will be outside both of these buildings from 10am-4pm to help you with anything you may need (well…maybe not EVERYTHING you need right now). Brochures and maps are available outside the Visitor Centers all day long.
Most campsites are also open but require reservations ahead of time and are given out on a first come first serve basis again.
Closings: Other than the above mentioned Visitor Center and museum closure, ranger programs are also not currently running and all dining areas are outdoor ones only.
Manzanita Lake is closed to swimmers and waders, not due to Covid…but OTTER DANGER (But really, what could those otters possibly be doing??).
Backcountry camping is also off limits east of Park Highway and Kings Creek due to…get this…"bears obtaining food from backpackers." I love that word "obtaining" like they followed some type of peaceful mutual protocol for this exchange.
Butte Lake Area is also inaccessible due to road closures related to the "Hog Fire." Anyone know what this is? Did the hogs cook themselves in the boiling mud pots or something?
I hate ending these things with closings. It makes me feel like a negative person. Oh well. Too late. Bumpass Hell! There. I feel better.
10. Arches National Park (Eastern Utah)
Oh no! We're at 10 already? But I have SO many more parks that I love here in our country! Well, rest assured that these parks I'm listing are absolutely the best of the best and also very much conducive for you to visit this year in the midst of your psychotic panic-mode quarantine thoughts!

I know. I'm also doing another bad thing and going back to Utah (woops). But seriously. Utah IS literally the best state in the entire country for natural wonders and parks, so…I guess it deserves a few spots in this post!
Anyway, enough banter. Here's to another one of my absolute top US national parks in the entire country and even the world: Arches National Park!
Fun Facts and Things to do in Arches National Park: Why is it called what it's called, anyway? Well, like the room names in Carlsbad Caverns, the name represents what it is. It refers to the 2,000 plus natural sandstone arch formations evidenced there, which is the most dense area of natural arches in the world!
As usual, humans discovered this area long ago (about 10,000 years ago during the ice age, to be exact). These humans were pre-Columbian Fremont people and ancestors of the Puebloan Native Americans. The area was subsequently inhabited by Spanish missionaries, Mormons, farmers and now…tourists!
And arches are not the only natural formations in the park. Think pinnacles, balanced rocks living rather "balanced lives" and sandstone fins among other structures.
Oh, and let's not forget about those nighttime stars after dark! There is something really humbling and different about Arches that is hard to describe until you visit. 
You can explore the park, of course, by hiking, but also by car, horseback or bike. And of course, if you sill need that shot of adrenaline, activities such as rock climbing or canyoneering are options.
If your cortisol has already reached its maximum for the year and you are looking for quiet time spent deep in thought (as if you haven't had enough of that during the pandemic), you can camp at Devils Garden under the stars alongside the absolutely stunning views (Don't worry, there aren't many deciduous trees in these parts, so I DO mean the good kind of stunning this time!).
If camping isn't your thing, the town of Moab itself (where Arches is located) is quaint and charming. You can go grab a cold brew at Moab Brewery (my personal favorite in the US) after your night of stargazing as you look at the photos you captured like they look ANYTHING relevantly similar to the real thing. Oh well. Guess your jealous friends will just have to come with next time!
TOP SIGHTS: Delicate Arch (the thin one you see in all the glamour shots), Devil's Garden, Balanced Rock (still living a rather well-rounded and balanced life), Landscape Arch, Double Arch, Corona Arch (This arch actually started the name trend years ago, so shove it, virus!), Fiery Furnace, Park Avenue, La Sal Mountains Viewpoint, the Windows and Turret Arch
Best Time to Visit: I have a new one for you! The shoulder months like April-May and September-October are the best times to visit for this one! Unlike Lassen, the idea is to not avoid the frozen fingers again but the sizzling skin this time. Temperatures can exceed 100 degrees in the summertime in Moab causing an otherwise desert climate to suddenly turn you into one big soggy rainforest (sorry-ish for the gross visual image).
All that being said, I was there in March and it felt quite cool out to me, especially at night, so if you decide to opt out of those summer months, just make sure you bring your purple windbreaker like I did! Zion jacket to the rescue again!
Is it Open?! YES! Every park on this list is open! This includes all trails, roads, campgrounds and restrooms! The park store is also open and commercial services are permitted once more.
That's all I have on this one! Wow, I feel like I short changed you but like…that's a good thing, right?!
Closings: Arches Visitor Center is currently closed, so sadly, you will not be able to buy that t-shirt with the picture of the arch on it that you have been thinking about since you left home.
How is ANYONE going to know you went there?!?!?!
Don't worry. That's why Amazon is in business. 
Continue to not worry about your iffy direction sense when it comes to navigating the park. You won't be left totally to your own devices (Shwew!). A park ranger will be available OUTSIDE the Visitor Center to help and direct you during normal business hours. Obviously the virus can't travel outside of a man-made structure, right?! Of course not.
One more thing. To enter Fiery Furnace you need to be involved in a ranger-led hike or have a permit to go on your own but right now, those things are out (I know. After I put it in the "top sights" list…sorry.). But the good news is there is talk about these things picking back up late summer 2020, so I guess we'll see!
And that's it! That's all I have for closures in one of the literal best parks in the entire world!
And since this is the last point and I write entirely too much, I have one final recommendation and hidden secret gem for you just to finish you off.
You'll notice I didn't include the Grand Canyon in this list, somewhat because it's not one of my personal top favorites but mainly because I'm including a recommendation to Dead Horse State Park right in Moab. If you visit Arches National Park, you absolutely MUST make a stop at this state park or else I'll be mad and I might just have to practice a few "Kohm Yah-mah-nee"  moves on you!
Yes, Dead Horse State Park may as well BE the Grand Canyon, in my mind, but a lot less crowded and less of a drive from where you already are! This state park was discovered by my dad when we visited together. We expected the park to be somewhat underwhelming coming from big daddy Arches the day before.
NOT. Never judge a book by its cover or a park by its middle name of "state" versus "national!"
Or, ya know. Do. But still go!
#11. Just kidding. Technically I already did 11 of these if you include my sneaky grouping of Zion and Bryce into one!
So hopefully you now have more than enough US national parks to get started on turning this "terrible, horrible, no good, very bad year" into one full of outdoor adventures, underground bathrooms, foregoing the urge to enter bubbling underground geothermal activity pools, non-splinter-related stunning experiences, sweet treats, argument-winning photos, cool words and most importantly, good physical AND psychological health!
May the "year of Rona" start something new for you. May you stay healthy, fit, active and mentally…well…stable, at least.
Don't lose your sanity. Go out and find yourself in the natural wonders of our own backyard.
Are you open? Of course you are! Everyone reading this list is open!