Events for travel lovers & entrepreneurs around the world!
Ranging from hikes and adventure trips to local brewery visits and restaurants, we host in-person outings and events all over the globe to connect wanderlusters and creatives from everywhere! Our topics range from everything travel to everything breaking free of the 9-5 and living the creative unconventional life. Can't make it in person? Check out our virtual online meetings!
See upcoming dates, locations and topics below! Sign up using the contact forms for individual events or use the master signup at the bottom of this page to RSVP.
Pittsburgh, Pennsylvania
Date: Saturday, November 6th, 2021 1pm-3pm EST
Location: Shady Grove- 5500 Walnut St, Pittsburgh, PA 15232
Topic: First meetup in this location! Time to meet everyone out there JUST like you in the area! Let's share our travel stories and wanderlust habits, our entrepreneurships or travel businesses if we have them and to just meet one another to socialize and/or network!
Description: If you're in the Pittsburgh area, you won't want to miss our FIRST EVER meetup! This meetup is for all those who love to travel and/or are entrepreneurs looking to break free from the 9-5 life. This meeting is for all walks of life from seasoned nomads to beginner bloggers to National Geographic experts to those just looking to travel more! We will get together and just have a good time meeting one another. Bring your fun travel stories and ambitions, your entrepreneurship future ideas (or business cards if you're there!) and/or your general enthusiasm for adventuring the world! This is the beginning of a connection for all of us around the globe starting right here in western Pennsylvania!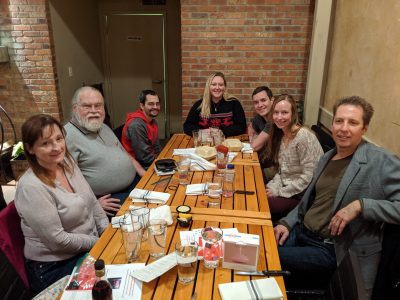 Newport, KY / Cincinnati, OH
Date: Wednesday, December 8th 2021 7pm-9pm EST
Location: Buckhead Mountain Grill – 35 Fairfield Ave, Bellevue, KY 41073
Topic: Christmas Destinations of the World & White Elephant Event

Description: Our annual Christmas gathering is coming to Cincinnati/Northern Kentucky for the first year ever! This evening, join us to talk top festive Christmas destinations to spend the holidays around the world! Bring your own recommendations and ideas or just hear about our top recommendations! Plus, join us for a travel-themed white elephant gift exchange by bringing a 5-10 dollar travel-themed gift to partake! Come to connect with fellow travel lovers and join in on a little holiday cheer!
You can RSVP to any of the above meetups by filling out this form. You can RSVP to multiple or also request future meetup locations here!